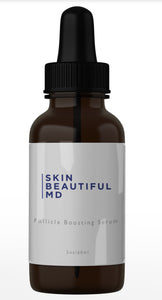 Skin Beautiful MD Follicle Boosting Serum (2oz Bottle)
PEERtrainer, Inc
Regular price $58.00 $40.00 Sale
This serum stops hair loss in 95% of people and starts new hair growth in 85% of people.
It is designed to be massaged into your scalp, with either wet or dry hair. Massage into your scalp with your fingertips, and do not rinse hair after. 
The key ingredient in the Skin Beautiful MD Follicle Serum is AnaGain, an extract derived from pea sprouts that is rich in nutrients and amino acids.
It is a powerful ingredient that modulates the expression of two key genes. This ingredient instructs these genes to grow more hair more quickly. 
AnaGain (Pisum Sativum)  is known for contributing to the appearance of fuller and thicker hair, making it suitable for promoting overall hair health for Women and Men.
"AnaGain™, which is based on organic pea sprouts stimulates specific signal molecules in the dermal papilla required to reactivate hair growth. Thanks to its composition, AnaGain™ successfully offers a sustainable and novel approach to fight hair loss.
In a clinical study involving AnaGain™ it was shown that the anagen : telogen coefficient (proportion of active hair follicles to degenerating ones) could be improved from 4 to 7.2 corresponding to a 78% increase in hair growth in just 3 months. AnaGain™ is thus a natural and sustainable contributor to fuller and thicker hair."
Another  study on this extract showed, "95% of the volunteers noticed a slight to strong reduction in hair loss and a slight to strong improvement of the general hair condition (Fig.5). 85% of the volunteers noticed renewed hair growth."
Watch the 2 minute video on the key ingredient:
We offer a 100% keep the bottle guarantee for this product. We strongly recommend using the Inner Beauty product in conjunction with this. If your hair can be regrown, these two products are a must try.
User Stories and Testimonials:
"A hairdresser was here to cut my hair. To her surprise she could see new hair growth in previous large bald areas.  I was so pleased to hear this. I have been applying the serum to my hair every night and massaging it in. I am 79 years old, thank you for your formula."  -Devalon P.
Main Ingredients
Pisum Sativum (Pea Sprout Extract) contributes to the appearance of fuller and thicker hair
Biotin (Vitamin B7) promotes the health of hair, skin, and nails
D-Panthenol (Provitamin B5) penetrates the hair shaft to deliver moisture
Vitamin E contains natural antioxidants to support scalp health
Squalane naturally hydrates and conditions hair to protect it from damage. This is also a powerful detoxing ingredient, and comes highly recommended by the leading MD's that we consult with.
Peppermint Oil provides a cool, tingling effect to scalp
Arginine HCl provides nutrients that support hair vitality
Wheat Germ Extract naturally supports healthy roots and scalp
Soybean Extract nourishes and conditions healthy hair
---