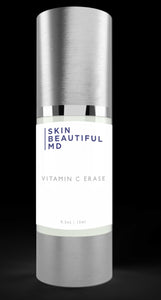 Skin Beautiful MD Wrinkle Erase C Serum (Contains 2 Botox Alternatives, Powerful Collagen Builder, Instant Smoothing Ingredient)
PEERtrainer, Inc
Regular price $58.00 $50.00 Sale
This is a powerful and quick working formula that tightens, lifts and firms sagging and wrinkled skin. Two European peptides combine to create the most powerful natural alternative to Botox that exists.
This is the fastest working product in the Skin Beautiful MD line, and it helps augment the products in the Total Renew 30 Day Kit.
Use the INSIDER50 code to unlock the full discount.
Ingredient Highlights. In addition to Vitamin C and natural plant extracts, this serum features these 4 upgrades to the traditional C serum.
1. The most powerful collagen booster, developed in a lab in Barcelona. Peptides that help quickly increase collagen production 200-300%, including the rare Type 3 "youth collagen" which helps to mix in "soft" collagen with the more durable Type 1 collagen that dominates our skin as we grow up and get older.  We repeat this particular ingredient in 2 other product in the Skin Beautiful MD line. This is one of the (many) reasons we have a powerfully loyal customer base. 
2. A peptide from ocean algae that tightens and firms the skin instantly. This is where the "erase" comes from. A unique ingredient from a Swiss lab that you'll feel work quickly. Great before going out or photos.
3. A Swiss pharma-grade peptide that helps relax facial muscles, smoothing wrinkles very quickly. 
4. A French ingredient that also relaxes facial muscles. Helps organize collagen to make your face less saggy and more lifted, and smoothes your face.
This is the formula you want to put on before a meeting or before going out. It smoothes and tightens the skin, and moisturizes at the same time.
"Hi there! I'm Marta, I live in New York and I recently purchased the Vitamin C Erase Serum from skin Beautiful MD. I use it twice a day on clean skin and after two weeks, I began noticing my fine lines disappearing from around my eyes. This product is amazing!"
"I am 47 yrs old and am currently using the Skin Beautiful MD Vitamin C Erase and I'm Loving it! My skin has improved so much. Not Just in the texture but it now has a glow to it! A Vitality Glow! I love the consistency and I put the Vitamin C Erase on at night before my night cream! Thanks for a Great product that actually Works! --Maggie Hill - Alabama"
"I purchased the vitamin c serum, I absolutely love it and I tell everyone. I can instantly feel and see this product working. The firmness and cooling sensation feels great. After it absorbs I am left with a very soft feeling across my face and neck. Love it 😍😍😍 my name is Hazel with and I live in Torrington Conn."
"Dawn-Homer Glen—Vitamin C Erase leaves my skin looking refreshed and gets rid of any puffiness"
"I have recently thrown out all my other skincare products. I was just not using them. I love the citrus stem cell product. I use that first. I use the vitamin C at night just before the night cream. I use the vitamin C erase in the morning with he stem cells first and just love the night cream. I use it in the day, it soaks right in. My foundation goes on like a dream. The girls at work can't believe how great my skin looks. My new patients all think I'm in my early 30's. I'm 42. Thanks for such a great skincare line. Tiffany S. Mesa AZ"
"VITAMIN C ERASE. FANTASTIC PRODUCT. LARGE PORES DISAPPEARED, SKIN TIGHTENEND UP. USED WITH A MOISTURIZER. ALINE FROM FREEHOLD NJ. BUY IT!!"
What It Does:
Naturally derived ingredients like Vitamin C and Acai Berry Extract combine with a formulated complex of bio active ingredients proven to help lift, tighten, and firm skin that is sagging or wrinkled due to aging and oxidative stress.
This Serum restores and regenerates skin to a brighter, more youthful appearance. The formulation promotes collagen production and supports fighting against free radicals and a reduction in blemishes. With continued use, skin is visibly smoother, lifted, firmer and brighter.
Directions:
Apply a small amount morning and night to cleansed and toned skin and allow to fully absorb before moisturizing.
Key Ingredients:
1. Acmella Oleraca When applied topically, the extract of this plant relaxes facial muscles and reduces muscle tension. In turn, the appearance of fine lines and wrinkles are much less pronounced. Wrinkles caused partly by muscle tension, ease and relax when exposed to the extract, providing a smoother, more even complexion. Some people have claimed that this extract is an excellent natural solution to aging because it lacks the invasiveness of BOTOX. Acmella oleracea extract is also a much more cost effective alternative to procedures like BOTOX.
2. Pepha-Tight  A naturally derived ingredient developed from micro-algae extract, works immediately to visibly tighten and firm skin, providing a smooth and lifted appearance.
Pepha-Tight is a highly purified biotechnological produced extract from the micro algae Nannochloropsis oculata combined with a well-balanced fraction of polysaccharides. It is a unique natural tightening and firming active ingredient: it delivers both a fast, instant tightening experience, and a superior long term skin firming effect.
3. Argireline Pharmaceutical-grade peptide that effectively reduces facial wrinkles caused by expressions, especially near the forehead and eyes, giving the skin a smoother appearance. This is another ingredient developed by European labs to help transform the skin without dangerous toxins, and has the same functional mechanisms in the cells as Botox.
4. Gatuline® Expression A plant extract from Madagascar that is proven to be a safe and rapidly effective blocker for muscle contractions that cause facial wrinkles, leading to smoother and younger-looking skin.
5. Trylagen® PCB A protein-peptide combo that restores the structure of the skin's collagen cells, enhancing collagen production and restoring skin to a more youthful appearance.
This ingredient is a powerful collagen booster, having been shown to increase different types of collagen production by 80-300% in just 15 days. Including both Type 1 and the rarer Type 3 collagen.
It also showed a 29% decrease in wrinkle depth after 30 days. Studies like this are the reason we only refund this product after 30 days of use. As you'll see, this works, and we want you all to get a chance to experience this.
---