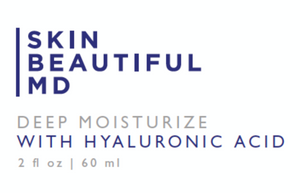 Skin Beautiful MD Deep Moisturizer With Hyaluronic Acid
PEERtrainer, Inc
Regular price $58.00 $58.00 Sale
This is the most complete and advanced skin hydration formula available. This is 2oz (large jar) formula that is best used before bed, so you wake up with your skin looking fully hydrated.
Here is a summary of the ingredients that demonstrate the unique power of this formula.
1. A peptide (small protein) new to the Skin Beautiful MD line that helps transport water from the lower layers of your skin to the uppermost layer.  There are specific proteins in the skin whose job it is to carry water. Age and sun degrade this protein. A study on 20 female volunteers showed a 96% increase in this protein and 107% increase in measurable hydration using this peptide. From Spain. This ingredient is 100% natural origin and meets the Ecocert Standard for Natural and Organic Cosmetics.
2. A peptide that is also used in the Skin Beautiful MD Night Cream, serves as a magnet to draw water into the millions of tiny sacs in the uppermost layer of your skin. It works immediately for 72 hours per application, and creates longer term benefits. Helps increase smoothness and softness, and decreases itchiness and flakiness. From Switzerland. This ingredient is 100% natural origin and meets the Ecocert Standard for Natural and Organic Cosmetics.
3. Squalane, which is a fat that is naturally produced in our skin. Which diminishes naturally as we age. This adds yet another layer of moisturizing power to the formula. This ingredient is also a powerful skin detoxer, contributing to the healing power of the skin.  This is also classified as a "refatting" ingredient, meaning it helps build the fat levels back up in your skin. Which helps you look healthy and young. Meets Ecocert Standard.  
4. Hyaluronic Acid, is a naturally occurring carbohydrate found in your skin and connective tissue. It helps give your skin structure, and leads to the plump hydrating look. It also helps to slow the rate at which water evaporates from your face. Meets Ecocert Standard.
It's a great ingredient with a ton of science.  It's not the magic bullet that a TV ad might make it out to be, but it is a fantastic teammate of the other ingredients in this formula.  
5. Chamomile Flower Extract. Helps soothe skin. Organic.
6. Aloe Vera. Well known ingredient that soothes and helps renew skin. Organic.
7. Multivitamin complex containing Vitamins E, C, B3, B5, and B6  
Product Claims: Paraben Free, BHT Free, Talc Free, Cruelty Free, Sulfate Free, Silicone Free
---